Heron Hill Loft Guest Cottage and house in their woodland setting, with Whidbey Island in the distance beyond the ridge.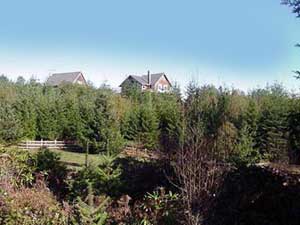 The roof of the cottage and our home seen above the lawn and horse pasture
Heron Hill Loft Guest Cottage is a family and pet friendly vacation getway located minutes from Port Townsend in a woodland setting, close to many miles of hiking and biking trails. This fully furnished two bedroom home away from home is your ideal base for exploring all the Olympic Peninsula has to offer. For less than the price of a quality hotel room, you can have room for family and friends, plus a fully equipped kitchen and laundry room, phone, DirectTV and VCR. Well behaved pets are welcome, too.
We'd like to invite you to take a tour through the cottage, using the menu above. In addition to showing you the features, we've included some of our photography of the area in and around Port Townsend. We hope you enjoy it.
Looking from the living room toward the loft bedroom
This is the garden shed, which boasts the only crystal chandelier on the property. You can even spend a bit of time gardening, if you like.
Heron Hill Loft Guest Cottage is part of a residential property owned by a licensed real estate agent. For more information about properties in the
Port Townsend area, please visit ptproperty.com